Aldebaran Commodities has been importing nuts and seeds from several origins and selling them to a worldwide group of clients for over 25 years now. We are always in close contact with producers to get the best prices and the most accurate information regarding issues ranging from planting figures and the weather forecast to crop prognoses and the latest market developments. This way we have established ourselves as one of the most reliable and professional suppliers in the market to ensure that our clients receive not only the best prices but also the latest information from worldwide origin markets.
Over the years, we have made the European market our focus and build up a portfolio of which we are very proud of. This includes:
Being able to work with small local processors up to the multibillion global processors.
Have a close relationship with all players in the chain, from brokers to traders and from private label processors up to premium label owners.
Have the capacity to supply to those that a demand of 1 pallet up to those that take numerous full containers at once.
Having the flexibility in working with several incoterms such as FCA, DDP, CFR and CIF (either EU custom cleared or in transit), basically bringing the goods to your appointed destination.
Being a very financially healthy company which allows us to work with credit insurance companies and to provide positive financial terms to our buyers.
We have started in het conventional (edible) business but quickly took steps in the feed business. Since 2016 we have also joined the organic world by gaining our organic status. Our latest value is our GMP+ status. This new certification will help us to contribute the distribution of safe and sustainable pet food. To keep up with the demand and restrictions, and of course be align with food safety and EU regulations, we are a member of various branche associations. See below in a nut shell.
Maasstraat 17
3016 DB Rotterdam
The Netherlands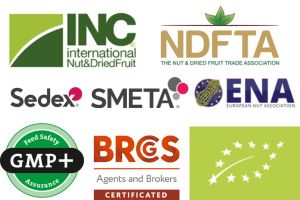 Subscribe to receive our latest Market reports and other news.