Aldebaran Commodities has been importing nuts and seeds from several origins and selling them to a worldwide group of clients for over 25 years now. We are always in close contact with producers to get the best prices and the most accurate information regarding issues ranging from planting figures and the weather forecast to crop prognoses and the latest market developments. This way we have established ourselves as one of the most reliable and professional suppliers in the market to ensure that our clients receive not only the best prices but also the latest information from worldwide origin markets.
Click on the desired product to get to know more about the origins, varieties and product purposes.
Maasstraat 17
3016 DB Rotterdam
The Netherlands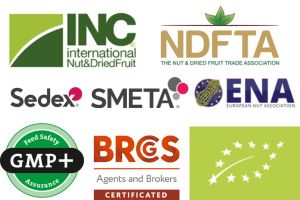 Subscribe to receive our latest Market reports and other news.